The RV park where we stay most of the time will be enforcing a 10-year policy. This means that in order to stay here, my RV has to be 10 years old or newer. Unfortunately, the RV that I've been automating for the past few years is 10 years old. So the options are move, or replace it. Since we really like staying at this park, we're choosing to upgrade the RV.
We looked at replacing it with another used RV. When I did the math though, it actually came out reasonable to purchase a new one that we can keep for 10 years as opposed to buying a used 5-year old unit then replacing it again in 5 year.
So after much shopping, searching, praying, and looking, we finally decided on a new Heartland Cyclone 4005. This is a huge 45′ toy hauler with most of the amenities included. Shopping around locally, it was a bit out of our budget. But searching nationwide for it, I found that it could be had for about $15,000 less if I drive north a couple states to pick it up.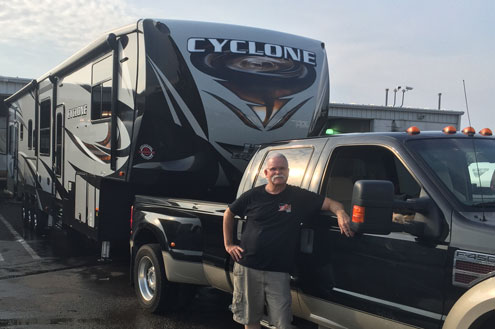 So we ended up working with the Dave Arbogast RV dealership in Troy, Ohio to purchase it. Their price was as low as we could find, and the folks we easy to work with. We could have had the RV delivered to Texas for about $2,500, but we opted to drive up there and pick it up ourselves.
En route to picking it up, we swung a little bit out of the way to go by the Heartland factory in Elkhart, Indiana to take the tour of their toy hauler plant.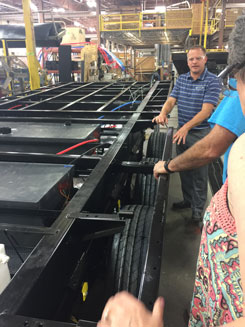 Serendipitously, the models being built were the exact same Cyclone 4005 model that we had purchased. Some were a different color with different options selected, but it was like watching our unit being built in various stages of completion. They must have about 12 units in the assembly line at one time working their way toward completion. This was a terrific tour and we enjoyed it very much. Dustin is the manager that gave us the tour, and he was great about explaining how and why they build them the way that they do. For not being a marketing guy, he sure made us feel very good about having chosen a Heartland RV, and the unit that we had picked. I took of course a thousand pictures, so I now have a pretty good idea of what's behind the various walls, floor, and ceiling for when I go to customize or repair it in the future.
Since the Cyclone 4005 is a high end toy hauler, there really weren't many options to choose from. The options that we got to choose were:
Upholstery color: we chose the dark brown over the medium brown color.
Optional ramp patio package and 3-season wall for the rear ramp. This allows the ramp to be folded down to become an outside deck. Since I'll convert the garage into my office when not hauling a motorcycle, I think of this as my office balcony.
Full size residential refrigerator (with battery sine converters for staying cool on the road). Since we live full time in our RV, we need a full refrigerator, not the compact units typically found in RVs.

In addition, we had them add slide toppers. It was surprising that these were not included standard. Here in Texas, every bit of shade helps, and the roof of the slides is pretty thin and let a lot of heat in otherwise. Unfortunately, when we picked up the unit the slide toppers weren't installed. So the the good folks at Arbogast RV worked with us and the Heartland factory to arrange to have the toppers shipped to us, and reimburse us when we get them installed.
So now I'm planning out how to automate this beast. I'm super delighted that there are a lot of LED lights in this RV, and most of the lighting controls are contained in 2 large control panels. This should make adding Photon controlled relays much easier and less expensive.
I'll be blogging my IoT and other projects as I go. Stay tuned…