After the heavy rains earlier this week, we've had to really check out the RV for leaks. We didn't find any major leaks. However, we did find evidence of a significant amount of old water damage. When we purchased the RV we were told that there had been a leak along the front, but that it had been fixed. It turns out that there had been a significant amount of water damage, rot, and mold which had not been fixed.
So we rolled up our sleeves and got to work this weekend.
We had to completely dismantle the closet doors and shelves to get at the rear panels. Upon pulling up the carpet we realized that we'd need to replace the flooring, at least for the back part.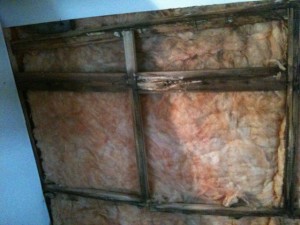 The framework behind the rear wall panelling was rotten, so we had to replace it.
We looked into using teak, but this appeared cost prohibitive. Instead we've opted to go with an inexpensive hardwood and paint it with Kilz.
It appears that the closet was built before the front end fiberglass end cap was installed. We really didn't want to remove any outside panels, so we were delighted to find that we could reach everything containing rot from inside. Thank you Jesus.
I'll post more pictures as we go.